The Gig Holiday Special features some of South Florida's most talented musicians. Artists of several music genres come together to perform the Season's favorite tunes.  Hosted by South Florida's own, Monique Arenas, the special highlights uniquely arranged classic holiday tracks with a South Florida twist. Check out the musicians featured in the show below.
Keba, a native of Trinidad & Tobago, is accompanied by Erik Nunez on guitar, as she delivers a soulful rendition of Coventry Carol. The song dates back to as far as the 16th century in England. Keba gives it a modern twist while maintaining its original essence.
Keba's debut album, Wildfire, fuses R&B, soul and funk. She is putting finishing touches on her follow up album, set to drop in early 2015.
A New Way To Live Forever (ANWTLF) is a four member rock band on a mission to stitching together elements of soul, pop, groove, balls, and emotion into one unified, original voice. Originating from Fort Lauderdale, they are performing a window rattling version of Auld Lang Syne. Thank the Scotts for this hymn, which was generally sung during raucous festive New Year's Eve gatherings.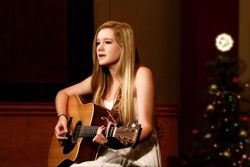 Coming to us from Palm Beach County, Emily Brooke performs Silent Night. She is a singer, songwriter, guitarist and Nashville recording artist. Emily started her singing carrier when she was only 10 years old. Silent Night has been translated into dozens of languages and performed by millions during the holiday season.
Paul Bellantoni, is known for his heartfelt power ballad vocals and piano. He has performed across the country, from New York to California. Accompanied by Es Oh on the violin, he is performing his interpretation of O Holy Night… a song written by the French poet Placide Cappeau and composed by his buddy, Adolphe Adam.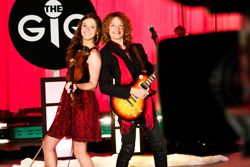 Now, we have Deck the Halls, a Christmas song originally from the sixteenth century Wales. This time, it gets a rocking country twist, performed by young rising star, Maggie Baugh and her mean fiddle. Maggie is joined by Mason Pace on his electric guitar.
Joy To The World, a song first published in 1719 by English by prolific writer, Isaac Watts. Tonight, Joy To The World is being performed by James Coyle. He's been involved in several music projects, including the rock band StarPound. But on The Gig, he is here as a solo act. James is a singer, guitarist and songwriter. His writing is inspired by personal experiences and observations. Now, he gets to implement his talent into a holiday classic.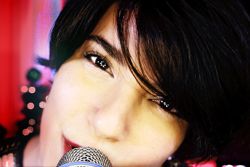 Miami's own, avant-dance duo, Afrobeta, the love child of Smurphio and Cuci Amador perform their original version of a holiday favorite, O Christmas Tree. A tune based on a German folk song about a lovely fir tree now gets an electronic upgrade. As they describe it, Afrobeta is Miami. Their unique style and sound has taken them to international venues performing hits off their albums Under The Streets and Wig Party. Afrobeta's music transcends any music genre.